Why You Should Join Quran Courses Academy?
Every student receives individual attention at Learns Quran Islam Academy, based on their need to learn, by assigning each student a certified Quran teacher.
DO
YOU

OR


YOUR KIDS


WANT TO


LEARN QURAN?
Then what you wait for? Learn Quran Online while staying at Home!
Learn Quran Islam offers you a taste of the Quran. Here, our academy is advancing and doing everything it takes to help you learn how to speak the Quran.
A certified instructor relevant to this topic is available for translation and teaching from Quran. Our professors speak Arabic and English in the languages they can speak.
Our Muslim brothers and sisters who live overseas face difficulties for their children. Thus, it is highly necessary to master Coran memory or Hifz Our school teaches online using skype.
Our relationship with our students is very solid, since our online Qur'an teachers are honest with our pupils. That's not that much we charge. We have a low demand and a good quality of Quran education.
Online Qur'an teachers who teach Qur'an courses, such as Noorani Qaeda, Qur'an Recitation, Tajweed, Qur'an Memory and Arabic, may explore their hand-picked teachers profiles.
Use your 30 minutes spare time to interview instructors of Quran. Follow your Quran studies by selecting a classroom plan with your preferred tutor.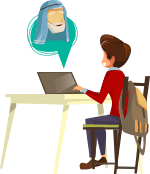 There is no need for Skype or any other programme. Our Quran Classroom is for learning Quran online and works with video and audio on your browser.
Learn Quran Islam is more concerned about educational quality. By employing educated, experienced, and expert Quran Teachers, we try our best to offer excellent lessons. Because most parents have no clue what an excellent Quran Teacher and Quran Teaching Online procedure should include. We carefully choose our team to provide the highest standard of Online Quran Learning Classes. Take a one-week free trial class and make your own decision. If you are dissatisfied at any time after registering, your whole registration cost will be refunded. So, rather than thinking, apply.